Q2 2017 HOUSING REPORT
Deeds Office statistics reveal that in the second quarter of this year, 35 637 bonds were registered, with an average bond amount of approximately R1 033 000. The number of bonds registered increased by 549, while the average bond amount increased by R6 000 when compared with last quarter's figures. Approximately 51 515 bonds were cancelled during the same time frame.
Average freehold price softens
Adrian Goslett, Regional Director and CEO of RE/MAX of Southern Africa, says that while the average price of a sectional title unit increased from R944 008 to R948 176 during Q2, the average price of freehold property declined from R1 161 481 to R1 139 604. He adds that the muted inflation of freehold homes can be attributed to the slower South African economy and rising unemployment rate which is impacting the property market. According to Stats SA's Quarterly Labour Force Survey (QLFS), during the first quarter of the year, unemployment rose to 27.7%, the highest it has been since 2008. Goslett says that the struggling economy and significant unemployment rate poses a threat to household income growth and erodes affordability. In turn, demand for property is restricted which negatively affected property prices.
Goslett says that since the beginning of April up until the end of June, around 28 127 freehold homes have been sold, of which 4 086 are first-time registrations, with the remaining 24 041 repeat sales. During this time frame, 14 807 sectional title units were sold, as well as 6 260 homes within estates. Regarding sectional title sales, only 136 transactions were first-time registrations.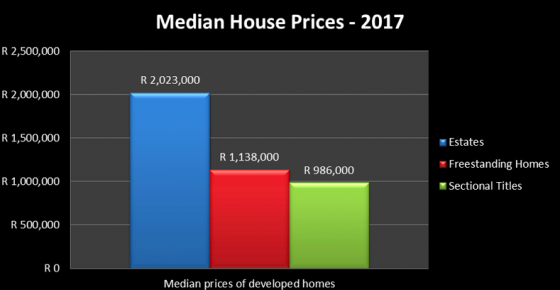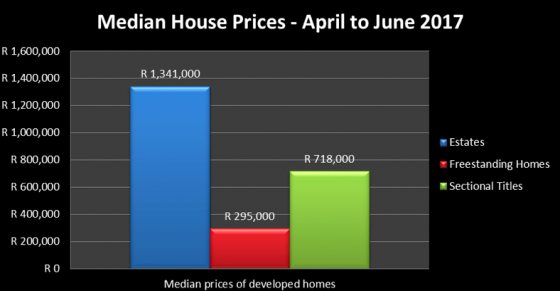 Affordable housing continues to lead the market
Once again data from Lightstone, a property information and statistic provider, revealed that the largest amount of sales traffic in the property market was from homes priced below R400 000. Based on developed home sales, this price bracket accounted for 26.52% of property sales in the second quarter of this year. "With a large percentage of the population falling into the affordable housing market, transaction volumes within this segment of the market continue to outperform all other sectors," says Goslett.
Other pricing sectors
Properties priced between R400 000 and R800 000 accounted for 25.42% of the sales, while those priced between R800 000 and R1.5 million made up 26.13% of the country's home sales in the last three months. Homes priced from R1.5 million to R3 million represented a 16.17% share of the market, while properties with a price tag above the R3 million mark, accounted for just 5.76%.
Homeowners downscaling
Goslett says that a trend developing in the market is that many high-end property owners are selling their luxury homes to purchase smaller more affordable properties – possibly another reason for the decline in the average freehold price. Lightstone recently reported that over the last 12 months house price inflation in the luxury band, which is considered homes with a selling price of R1.5 million or higher, has declined. In contrast, the mid-value segment (R250 000 to R700 000) of the market saw an increase in inflation from 4.67% to 7.07% within the same period. "The irony is that as the demand for higher-end properties decreases, so will their prices. Likewise, the increased demand for mid-value properties will push up the prices, making them more expensive," says Goslett.