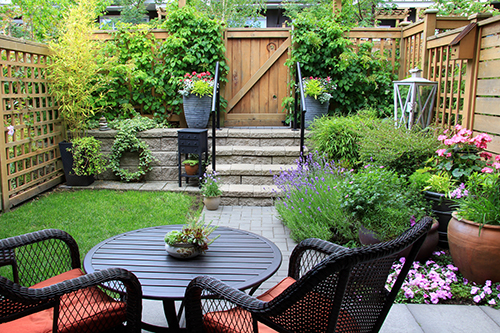 Regardless of its size, an attractive outdoor area can be a major selling point for prospective buyers, says Adrian Goslett, Regional Director and CEO of RE/MAX of Southern Africa. "Even if the outdoor space is just big enough to sit and have a coffee break, it can add a little something to the home and might just be what differentiates the home from others in the neighbourhood," says Goslett.
He notes that many sectional title units and entry-level homes have limited space for outdoor areas. However, just because the outdoor area is small, it should not be neglected when it comes to making it look its best on show day. "If a buyer has to choose between two properties within the same price bracket that offer the same kind of features, it will be the small differences between the two homes that will make one stand out from the other," says Goslett.
According to Goslett, there are a number of ways in which sellers can enhance their outdoor spaces to make them more appealing to buyers. He provides a few points that will assist in maximising small outdoor spaces:
Flooring
Smaller spaces are often more cost effective to upgrade. Due to a smaller surface area, it won't cost that much to invest in higher quality tiles or stones to cover the area. Decking is also another flooring option that is practical and adds a touch of sophistication.
Envision clarity
When deciding on outdoor furniture, a glass-top table will be the best option for a small outdoor area. The table can be functional while still creating an illusion of a larger space.
Lose the back
For sitting options, chairs and benches with no or minimal back rests will look less cluttered and won't interrupt the line of sight as much. This will make the space look larger and feel more open.
Size matters
The outdoor furniture selected for the space should be scaled correctly to fit the area. The larger and more bulky the furniture, the smaller and more cramped the space will feel. It is best to choose smaller furniture items that function well rather than items that smother the space.
A focal point
Even though an area is small, doesn't mean that it can't be visually interesting. Adding a focal point such as a piece of garden art, bonsai tree or tiny water feature in the corner can make the area more aesthetically pleasing while adding style. A focal point can also distract prospective buyers from focusing on the square meterage of the area.
Get vertical
Wall gardens are a great way to add foliage to the area without sacrificing space. Wall art made from succulent plants is another low-maintenance option for adding a green element, while drawing attention to the edges of the area. This will also assist in making the space look larger.
Get out the grill
Seeing a clean braai in the outside area will help potential buyers envisage their own outdoor meals in that space. However, it is important that the braai is size-appropriate, clean and in good repair.
"Maximising outdoor areas and showcasing them in the right way will be an advantage on show day," Goslett concludes.