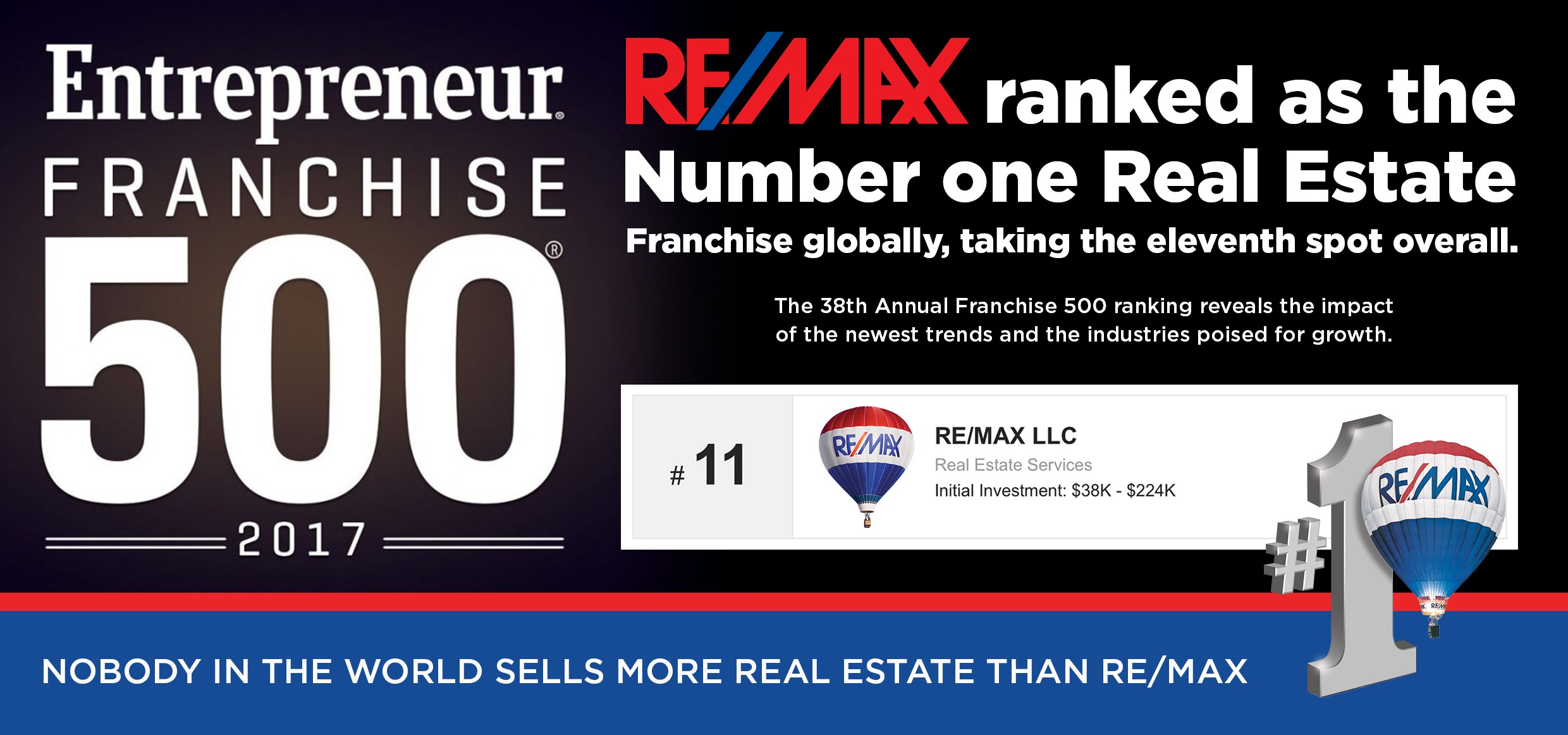 RE/MAX NAMED #1 GLOBAL REAL ESTATE FRANCHISE BY ENTREPRENEUR MAGAZINE

2017 Top Global Franchises Ranks Franchisors for Worldwide Appeal

RE/MAX is once again the top real estate franchise in a survey released by Entrepreneur magazine. RE/MAX ranked 11th overall in the publication's 2017 Top Global Franchise list of 200 brands, based on data submitted for the Franchise 500.

"RE/MAX continues to lead other real estate brands in annual surveys compiled by Entrepreneur magazine," said Chris Pflueger, Vice President, Business Development, RE/MAX, LLC. "From the Franchise 500 to the 'Top Global Franchises' list, RE/MAX outperforms its competitors. Our unmistakable business model of putting agents first enables us to grow our brand around the world strategically."

Adrian Goslett, Regional Director and CEO of RE/MAX of Southern Africa, says that the tried and tested business model of the brand continues to prove itself in regions around the world. "RE/MAX provides entrepreneurially-minded individuals with the opportunity to be in business for themselves, but not by themselves. Real estate professionals can enhance their businesses with the guidance and backing of an international powerhouse," says Goslett.

Highlights of the "2017 Top Global Franchises" list:

• RE/MAX is the #1 real estate franchise

• RE/MAX ranked #11 overall

• RE/MAX ranked alongside universally known brands like #8 KFC, #9 Pizza Hut

and #10 H&R Block, and ahead of household names such as #12 Papa Johns, #15

Baskin Robbins and #17 Hilton Hotels and Resorts

The "Top Global Franchises" list is a variation of the magazine's annual Franchise 500® survey, the oldest and most comprehensive franchise ranking in the world. For the Global rankings, the Franchise 500 formula is adjusted to give extra weight to international size and growth. Other areas evaluated include costs and fees, franchisee support, brand strength and financial strength and stability.

In January, RE/MAX once again held the top position among real estate brands in the Franchise 500, ranking #10 overall. It marked the 14th time in 18 years that RE/MAX has been the top franchisor in the real estate category.

Entrepreneur magazine also recognised RE/MAX in its "2017 Top Fastest Growing Franchises" rankings. RE/MAX was the only real estate brokerage franchise that qualified, taking the 15th spot overall. It was the fourth consecutive year RE/MAX was included in the annual list of fast-growing brands.

RE/MAX now has over 30,000 agents outside the U.S. and Canada. In 2016, the franchisor's agent count outside the U.S. and Canada grew 16.9 percent.

With a presence in over 100 countries and territories, the RE/MAX network's global footprint is unmatched by any other real estate brand. Nobody in the world sells more real estate than RE/MAX, as measured by residential transaction sides, and more than 110,000 agents worldwide are a part of the RE/MAX network.