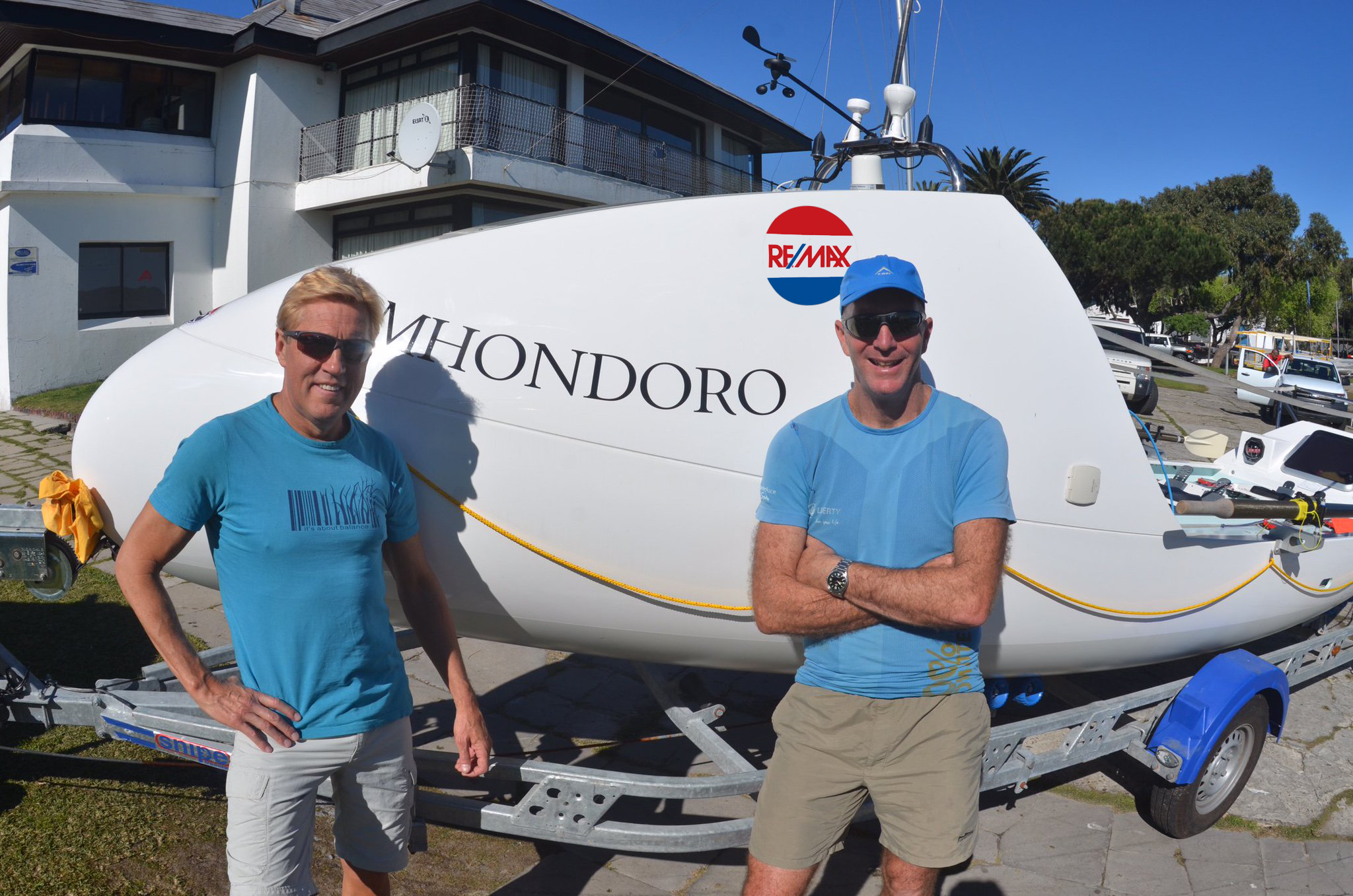 RE/MAX of Southern Africa is proud to be sponsoring Braam Malherbe and

Clyde Barendse

as they embark on a daunting, world first challenge to row the epic Cape2Rio yacht race. Starting on 1 January 2017, the two men will cover the 6 700km distance completely unassisted in a specially designed two-man rowing vessel – an effort that will require around 2.4 million pulls on the oars. Known as one of the toughest races in the world, the pair aims to complete the journey from Cape Town to Rio in just 90 days, rowing around the clock with one man rowing for two hours while the other rests.
So why would two men decide to attempt a possibly life-threating endeavour such as this? As passionate conservationists, they will be focusing on the vital importance of protecting the Earth, mostly the plight and preservation of the oceans, on which all life depends. Due to the high level of carbon dioxide that is being released into the atmosphere, ocean acidification is escalating at an alarming rate. It is predicted that by the year 2048 there will be very little fish left in the ocean, in fact, by 2050 there will be more plastic floating in the ocean than fish – this is cause for concern and more importantly action.
The professional adventurers, with the support of sponsors like RE/MAX, are using the race as a platform to launch a global movement called Do1Thing. The movement aims to galvanise people all over the world to make a commitment to Do One Thing (or DOT) to save the planet.
"Regardless of our creed, colour, ethnicity or where we live on this planet, we all share this third rock from the sun that we call home. For us, as a brand, it made sense to get behind an initiative that is focusing on raising awareness around conserving the planet we live on. Buying a property or land is essentially purchasing a piece of the Earth – our most precious asset. If we a human race don't do our part to preserve the planet, there will be nothing left to pass on to the future generations," says Adrian Goslett, Regional Director and CEO of RE/MAX of Southern Africa.
He adds that core to RE/MAX DNA is the belief that when we work together, striving towards a common goal, we are able to maximise our individual potential and collectively achieve more. The Do1Thing Challenge is based on the premise that, over time, little things can make a big difference; and as individuals, we each have the power to make small changes on a daily basis, that collectively can make our planet healthy, green and sustainable again. RE/MAX shares this belief, which is why we've chosen to support Braam Malherbe and Clyde Barendse and help spread the word.
"The DOT movement encourages and challenges you to make simple, achievable planet-saving changes (known as DOTs), which can be implemented immediately, most likely won't cost you anything and, in fact, will probably save you money, all while helping to protect and preserve the environment," Goslett explains. "For instance if you managed to save one litre of water every day by turning off the tap when brushing your teeth, and you got your family and friends to do the same, and they, in turn, got all of their family and friends to do the same, in a short time, you would have collectively saved thousands of litres of water. It is the collective effort of each person that will make one small thing, a big thing with global impact."
As part of the initiative, the #DOT app will also be launching on 1 January. It will encompass four vital categories, namely Water, Waste, Conservation and Energy. Using the app, you can decide whether you want to action one DOT or many – it's entirely up to you how much of an impact you want to make on the world. The lifestyle changes, or DOTs, can be shared across social platforms and you can challenge friends and family to complete the same DOTs. Once you have completed one DOT per category, it will unlock the ability to submit their own DOT, since you might already be doing something that positively impacts the longevity of our planet. This gives everyone else in the world an opportunity to action your DOT. Points are allocated each time somebody acts on one of your DOTs, enabling you to climb the Global Earth Champion Leader Board. See how you compare to your friends, family and neighbours, and even how your suburb, town, city or country compares globally. More importantly, it's about how many people you can influence to do your DOT, encouraging positive lifestyle changes and having the information at your fingertips on how to go about it.
To accept the challenge and make a commitment to DO ONE THING to save the planet go to http://dotchallenge.org/ download the DOT App or connect with @remaxsa via Facebook, tagging #DOT #remaxsa
Saving the planet may seem like a daunting task, but if we all start with one small, environmentally-friendly act, we can collectively make a huge difference.